MetroWest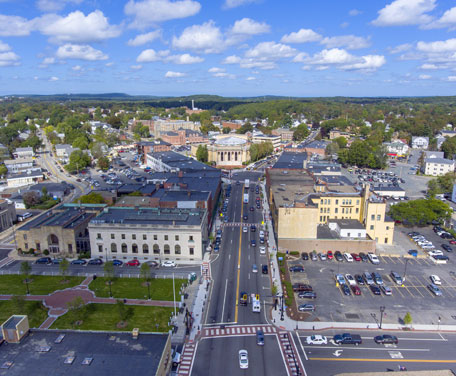 Roughly the area between I-95 and I-495, this section of Massachusetts didn't receive its' name until the 1980s when a local newspaper coined the term. It's filled with old colonial and river basin towns and provides some of the most unique downtown areas in all of New England. MetroWest is an ideal area for those commuting to Boston for work. I-90 bisects the area making it an easy commute.
The Towns of MetroWest
If you're planning to move to MetroWest, there are plenty of great towns found throughout the region. In addition, the public schools serving the area are known as some of the best in the state. The towns found in MetroWest include:
Arlington
Belmont
Brookline
Concord
Dover
Framingham
Hudson
Lexington
Lincoln
Natick
Needham
Newton
Sudbury
Wayland
Wellesley
Weston
Things to Do in MetroWest
The area is home to many independent farms and apple orchards. In the fall, people travel from all over New England to pick apples and chow down on cider donuts. An abundance of local town fairs, such as the Bolton and Sterling fairs, provide great family fun as well.
MetroWest is the perfect location for those that appreciate outdoor recreation. Offering plenty of state parks, walking trails and golf courses, there are activities for everyone. If the outdoors aren't your thing, there are the Wachusett, Jacks Abby, and Medusa Breweries offering tours and tastings as well as the Fitchburg, DeCordova, and Fruitlands Museums to spend your time.
MetroWest offers plenty of upscale shopping, fine dining and cultural attractions with the added benefit of only being 20-40 minutes from either the Boston or Worcester areas.