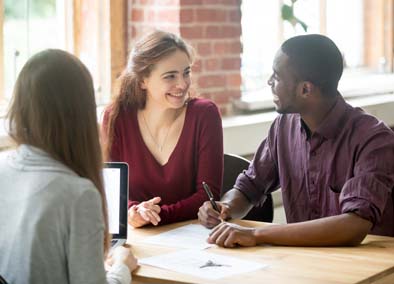 Looking to rent for yourself? With access to over 60,000 apartments, Red Tree has one of the most extensive rental networks in the city. With so many places to choose from, our experts will find your perfect home based on your wishes, commute, lifestyle, and budget.
We attribute our success to the fact that we are a team. At Red Tree, agents share inventory with each other so they may learn the entire market through a collaborative effort. It's not uncommon to see Red Tree agents prospecting apartments together and then reporting their findings to the team so that each agent can do his or her job better.


What do I bring to my showing?
To push the application through as quickly as possible, try to bring the following to the showing:
Photo ID
Two recent pay stubs
Your checkbook
If you are an international student you will need an I-20
If you are starting a new job you will need a letter of employment
If you are a student you will need a letter of enrollment
The name and contact info of your current landlord
What is the application process?
Every landlord and management company has a different procedure. If you are a student, have been working less than a year at your current job, or have low credit, the landlord or management company may ask for a cosigner. A notary public must notarize cosigner forms.
All the paperwork must be in, and the appropriate funds deposited into our escrow account before the apartment can be taken off the market. Expect to put down first month's rent, last month's rent, and a full security deposit before move-in. Some landlords waive the pre-paid last month's rent or don't collect a security deposit. Some management companies charge a rekeying fee. Talk to your agent about the required up-front costs for each apartment you tour.
What do our services cost?
We charge a brokerage fee equivalent to one month's rent. Some landlords and management companies can be convinced to contribute a percentage of the cost; however, most do not. The brokerage fee pays for the services an agent provides you. In addition to doing the paperwork, agents prospect suitable apartments, photograph and market them, post ads, coordinate showings, copy keys, facilitate the move, and other tasks that the renter may not see.